We cover what comprehensive car insurance is, how it can protect you and how to go about buying it.
For some of us, our cars are our prized possessions. Hard work has gone into being able to buy a car and as much as we'd like it to never get scratched or ding'd, accidents do happen. And when they do, having comprehensive car insurance helps a lot. In this blog, we go over what comprehensive car insurance is, how it can protect you and how to go about buying it.
What is comprehensive car insurance?
It's the top level of protection you can get for your car. Comprehensive cover shields your car from various things like accidents, fire, Mother Nature, as well as theft and vandalism. It also covers you if your car damages someone else's property.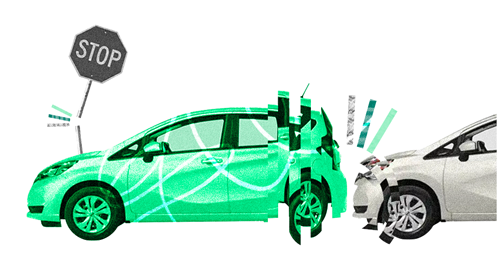 Do I really need comprehensive car insurance?
That's a decision only you can make. If the thought of being financially strapped after an accident or getting sued for accidentally bumping into someone else's ride keeps you up at night, comprehensive cover will give you the protection you need. If only the latter worries you, you might get by with only third party liability car insurance instead.
What does comprehensive insurance cover me and my car from?
First up, damage to your own car. If you find yourself in an accident, comprehensive cover will cover the repair costs. And if your car is uneconomical to repair and is written off, you'll be paid out the value of your car at the time of the accident.
You'll also be covered if your car damages someone else's property. Whether it's a minor fender bender or you drive through a storefront by accident, you'll be covered if you are held financially responsible.
What about theft and vandalism? Picture this: you come back to your parking spot only to find that your car has vanished into thin air, or worse, it has been vandalised with spray paint. Comprehensive car insurance will cover the repairs for any damage caused by theft or vandalism. And in case your car is never found again or is damaged beyond repair, your insurance will usually cover the replacement cost.
Some insurers offer additional benefits as part of your comprehensive cover. Like:
What add-ons should I consider?
Firstly there is car hire. Ever had the misfortune of being car-less after an accident or theft? If you add car hire to your policy, you won't have to spend all your money e-hailing while your car is in the repair shop or until it gets replaced. This is an optional cover you normally add on when getting a quote from your insurer.
And if you're still paying off your car loan, credit shortfall cover comes in handy if your car is irreparably damaged or stolen and you still owe the bank more than what your car is worth. It's all about peace of mind.
What is credit shortfall cover? Shortfall cover, also known as gap cover or top-up cover, bridges the gap between the money you still owe the bank, and the amount your insurer pays out – which is based on the value of your car at the time of the claim. It ensures that you don't end up out of pocket if your financed car is written off or stolen.
What about the few fancy things you've added to your car – are they covered? We're talking about things like the tow/bull bars, extravagant lights, or that sound system that makes heads turn? Well, comprehensive cover can step in and protect those valuable extras too. Just remember to tell your insurer about them. With Naked you can add these directly on the app without having to pick up the phone.
What else should I be thinking of?
First off, the excess.
It's the amount you'll have to pay out of your own pocket when making a claim.
Keep in mind: the higher the excess, the lower your monthly premiums will be, and vice versa. It's all about finding that sweet spot between what you can afford to pay upfront and what you can manage in terms of monthly premiums.
Next up, it's crucial to read the policy carefully and familiarise yourself with any exclusions.
This will help you understand what's covered and what's not, so there are no surprises down the road. Here's a blog that goes over what insurance won't cover when it comes to your car.
Premiums – how they are calculated.
The age, make, and model of your car are some of the things that affect the cost of your insurance. So, if you've got a brand-new, top-of-the-line car, it might cost a tad more to insure compared to an old gem from yesteryear. Factors specific to you are also considered when calculating your premium. Keep that in mind when figuring out your budget.
Lastly, the all-important factor: affordability.
Take a good look at the cost of the insurance policy and make sure it fits within your budget. It might be tempting to go for the cheapest option out there, but remember, the cheapest cover might not always be the best. Find that balance between cost and the level of protection you need to cruise the roads with confidence.
TIP: Compare apples with apples to see who has the cover that you need. Look for any exclusions or limitations in the policy, as well as any additional fees and excesses. It might take a bit of time but it'll be worth it!
At the end of the day, comprehensive car insurance is your ticket to peace of mind. Whether you're a new driver or have a few years experience, having the right level of cover ensures that you and your car are well-protected on the road.