Ideas for decorating and designing small living spaces
It can be challenging (not to mention expensive) to make all of your home design dreams come true. But according to our creative and design team, there are ways to decorate your home so that it's more spacious, functional and cost effective while still being aesthetically pleasing.
UX Designer, Nelius
Tip 1: Paint an accent wall
You've probably heard that dark walls can make a room look smaller, which can be true, but painting one wall a dark colour can actually create the illusion of space, pushing the wall back. I've done this in my living room and it's really added depth to the room.
Tip 2: Add some colour
Pops of greenery really spruce up a space and create a lively atmosphere. It can make a space that feels claustrophobic into one that feels cosy and safe – like a little oasis. Lush!
Tip 3: Little things make a room
I use mirrors in a couple of my rooms to add light and trick the eye into thinking a room is bigger than it is. I also like to buy light fittings that can hang from the ceiling rather than standard light fittings. But get an electrician to help you before you cause any damage!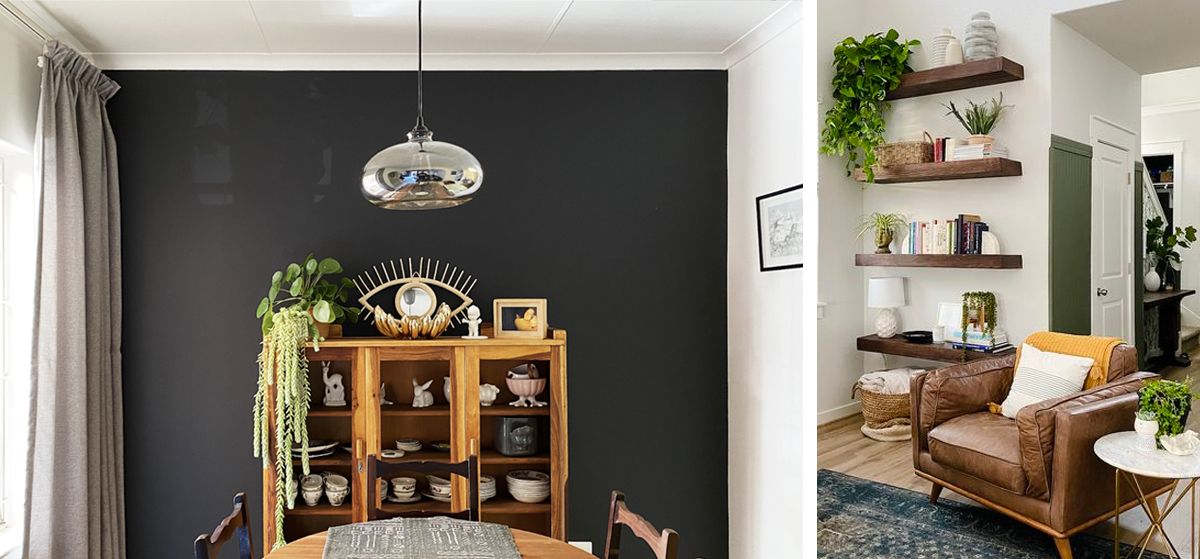 Content writer, Courtney
Tip 1: Sleep on any decor purchases
There are always things that we want to add to our apartments. Like: extra plants, decor or pieces of furniture "that might look nice in that corner". But do you actually need them? I always give myself about 24 hours to think about a purchase, and 99% of the time I actually forget about it. If in doubt, think about what Marie Kondo would say: "Does this item spark joy?"
Tip 2: Maximise nifty storage solutions
Superbalist and Takealot both have great storage/organisation sections that I use. Living in a small apartment with not many clothing cupboards for two people means you have to get creative. We bought some of their closet organisers to create more space for T-shirts and places to put shoes – including these nifty hangers. We also rotate our winter and summer clothes. We bought a couple of vacuum packs and put our out-of-season stuff in them. You can store them under your bed, or give them to a family member who has the space to keep them.
Tip 3: Buy furniture that you can use as storage space
If you haven't bought a TV cabinet and coffee table yet, buy ones that you can store stuff in. There are always little knick-knacks that have no specific place, but need to be put away. Mount your TV on the wall and then you have more space on your TV unit to place stuff like plants, books or decor. Instead of a blanket basket (for those who love blankets like I do), make yourself a blanket ladder. There are tons of tutorials online and you can get all the stuff at Builders Warehouse. But you can also go the easy route of buying a blanket ladder. Pinterest also has loads of small living room ideas for you to make the most out of a space.
UX designer, Magdaleen
Tip 1: Create spaces that have more than one function
Making our small space work for us has been about finding ways to create spaces and storage that have more than one function. As soon as we moved into our current home, we broke down a wall to create an open plan kitchen. That, in essence, merged the dining room and the kitchen so that the dining room table is also a space for cooking. We also managed to fit in a scullery space, which is our saving grace. Small spaces get messy in no time, especially with small kids – we needed a space to shove the mess into that was out of sight (temporarily at least).
Tip 2: Maximise shared spaces
Working from home at the dining room table or on the couch is alright for now and then. But for a lot of us we've had to find permanent spots that we can concentrate at at home. Finding a space that feels separate from your living space isn't as hard as you might think. When we had our second child, we had to give up our office space for a baby room, so we created a very cosy little workspace at the end of our walk-in closet – it has a little window to make it feel less like you're working in a closet. The kids are still able to find us there, though. Try to find a little space where you can pop a desk and maybe put up a shelf so that you have a more permanent space that doesn't encroach on the living area.
Tip 3: Try to make the most out of the furniture you have
It's all about planning and thinking about how you can get the most out of a space. Furniture can help a lot – for instance our coffee table is an old chest that also stores our linen. At the moment, I'm also making plans to create a space in our scullery where we can hang some of the stuff that's clogging my broom cupboard. So I'm buying a broom and dustpan that I don't mind people seeing i.e., curate the things you can't hide away. I really like this vibe: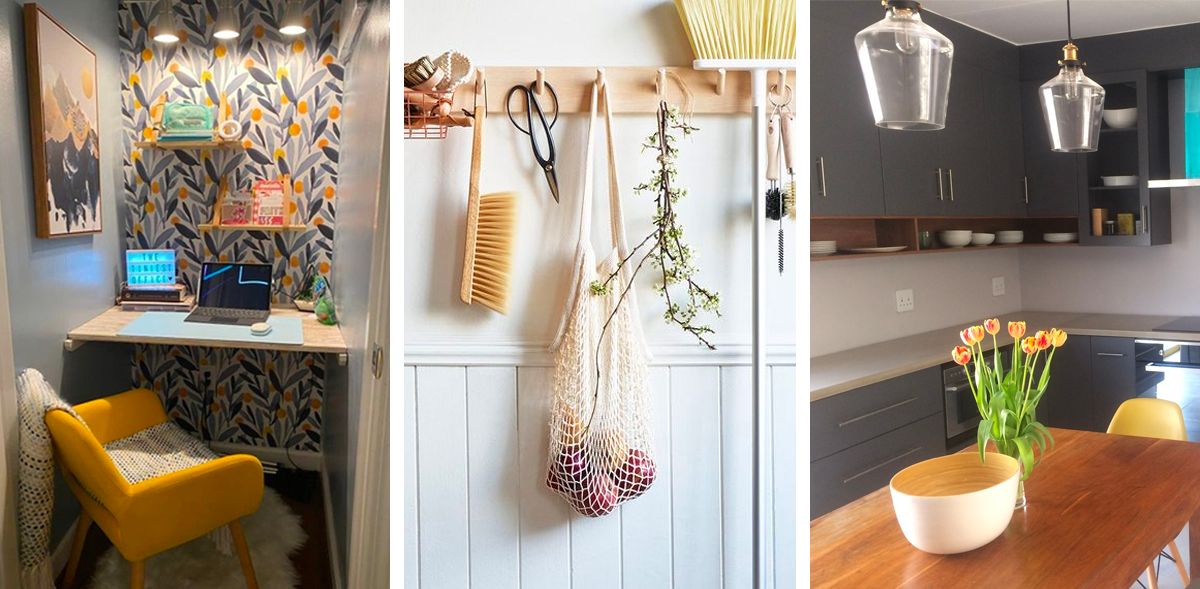 Graphic designer, Marguerite
Tip 1: Double up the things you use daily as decor
Use functional items decoratively instead of investing too much in functionless decor. Think of a nice looking basket for cables, or a pretty tin to store things on counter spaces. We've arranged our musical instruments to double as decor instead of hiding them away.
Tip 2: Have a designated space for things that are often left lying around
We all have that one drawer that houses everything that is either very important or completely useless. If you create a designated space in your home office or a folder for important things like invoices, you're likely to never lose any of them, but then also get rid of the unnecessary things that can clutter spaces.
Tip 3: Add some greenery
Adding some green plants can really make a difference to the feel of a room – it brightens it up. I make sure to have a simple pot plant (which is inexpensive) on a side or coffee table, shelf or windowsill – basically anywhere it will be happy.
Marketing manager, Liezel
Tip 1: If you're thinking of renovating, keep in mind that barn doors take up less space
If you are renovating, try adding a barn door to small rooms to avoid wasting space where a normal door would usually open. I've seen this work quite well in small bathrooms where people want to add a door in front of the toilet to make it private, but don't have space to waste.
Tip 2: Mount lights instead of putting a lamp on your bedside table
If you don't have space for a big bedside table, mount your bedside lights onto the wall so that you have more space available on the table for your books and phone, etc. It doesn't need to be a fancy lamp – you should be able to get nice naked bulbs to mount as bedside lights.
Tip 3: Large rugs can transform your small living room
Add a large rug to the living room – one that can go under the couch. It gives a sense of "grandeur" and the feeling of a larger room. The larger rug doesn't break up the room and will help anchor the space.
Since we've all been spending a bit more time at home, it might be worth taking the time to spruce things up. That doesn't mean you have to spend tons of money on a makeover (if you don't want to), it just means adding or changing little things within a room to make it cosy and more functional.