A look at our top 10 most binge-worthy shows to stream right now.
There's no denying that this pandemic has turned many of us into professional binge-watchers – so much so that the LA Times reported that global subscriptions of streaming services passed one billion in 2020. The sheer volume of series and films available at our fingertips is pretty overwhelming, making it difficult to know where to spend our hard earned couch potato hours. But worry not! The lovely folk at Naked have sifted through the ocean of online content to curate their must-see list of series this summer.
How do we decide what to watch?
As a tech company we are all for letting software do the hard work for us. Recommendation engines are getting better and better at figuring out what we like and pointing us to our next favourite show. Who knew "Suspenseful Scandinavian Movies based on Books" was your thing? Netflix did, that's who!
Recommendation systems at Netflix use all sorts of fancy Artificial Intelligence frameworks to present us with the shows they know we'll love. But when your little sister sneaks onto your profile and watches 10 hours straight of Dora the Explorer, even the smartest algorithm would be thrown off. That's why we still love using our "Shake the love" virtual company drinks to share our latest obsessions and line up our viewing schedules for the weekend.
We've compiled a list of our 10 most talked-about series along with the Naked team's consensus on just how binge-able they and a couple of runner-up shows are. Happy viewing!
A look at our top 10 most binge-worthy shows to stream right now
Breaking Bad
Why we love it
As you can see, Breaking Bad comes out on top as one of the best shows to binge. Walter White (played by Bryan Cranston) is a mild-mannered high school chemistry teacher, struggling to make ends meet, who learns he has terminal cancer. Desperate to secure his family's financial future when he is gone, he turns to a previous student turned junkie to help him set up a meth shop on wheels.
Money Heist
Why we love it
Well before the dawn of Squid Game, Money Heist was dominating the Netflix top 10 in SA for weeks on end. The show follows a criminal mastermind, known as the "The Professor" who has a plan to pull off the biggest heist in recorded history; to print billions of euros in the Royal Mint of Spain. It's one of those utterly ridiculous shows with an outlandish plotline and over the top action that you simply cannot stop watching. It has the perfect mix of celebrating all the clichés of great heists while adding just enough intrigue and suspense to keep you on your toes, eager for the next episode.
The Office (US)
Why we love it
Based on the short lived British original, The Office is a mockumentary-style series following the staff of the Dunder-Mifflin paper company and their lovably crass leader Michael Scott (played by Steve Carell). You'll laugh, you'll cry, you'll laugh so hard you cry: the perfect recipe for a great binge session.
Parasyte: The Maxim
Why we love it
Our anime buffs rated this show quite highly. It follows a teenager who battles an assault of parasites from space with the help of Migi, a docile parasitic creature that's taken over his right hand. The cinematic imagery and beautiful soundtrack were the big pulls for this one.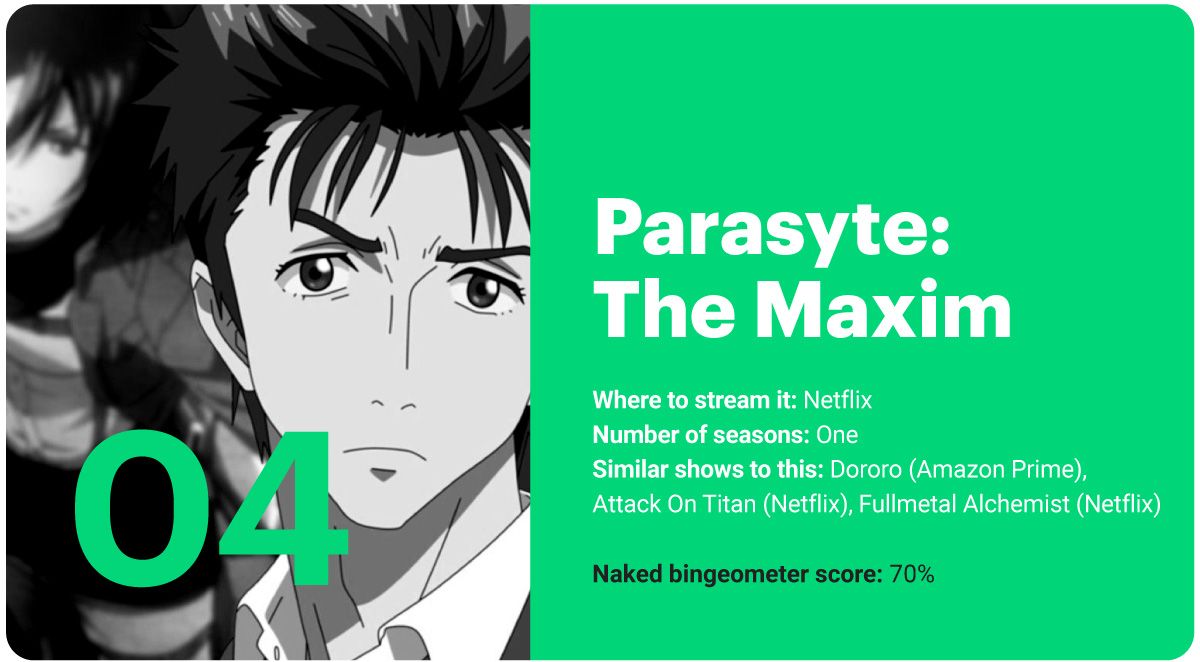 The Handmaid's Tale
Why we love it
Based on Margaret Atwood's novel of the same name, Handmaid's Tale is centred around a future where women are subjected to forced surrogacy and oppression. The haunting parallels between modern day social and political oppression and the dystopian nightmare of the fictitious new world of Gilead can be uncomfortable to watch. But with its exceptional pacing and stunning visuals it is an immersive experience and whilst each episode might leave you exasperated, you'll find yourself constantly going back for more.
Squid Game
Why we love it
There aren't many lists that this viral hit won't be on. The mixture of drama, violence, suspense and beautiful set and character design is enough to hook any kind of viewer. The story follows hundreds of cash-strapped contestants who accept an invitation to compete in children's games for a tempting prize, but the stakes are deadly. The plot alone is enough to intrigue just about anyone.
Maid
Why we love it
The series covers some important themes like emotional domestic abuse. It also comments on the effectiveness of the systems that are in place to help victims. It tells the story of a single mother balancing life and multiple setbacks as she tries to start a new life from scratch. It's a heartwarming underdog story, and it makes you appreciate the simple things in life again, like money in your bank account, or a clean bed to sleep on.
Bridgerton
Why we love it
Everybody loves a good old period piece. And they love a good soapie right? Don't they? Maybe it's just us, but as much as some of us tried to hate this show, we found ourselves watching episode after episode. It's basically regency era Gossip Girl but the absurdly good looking cast and fantastic sets and costumes make this one well worth the watch.
Stranger Things
Why we love it
Before Netflix had grown the huge reputation it has for its original content, it took a gamble on this pokey little sci-fi series after 15 other cable networks turned it down. And within 35 days of its release the first season had racked up 14 million viewers, cementing it as a flagship original series. The first season focuses on the investigation into the disappearance of a young boy (Will Byers) amid supernatural events occurring around the town of Hawkins, Indiana. We loved the nostalgic visuals and soundtrack and the outstanding lead performances from the young cast.
Fleabag
Why we love it
In the ocean of clichéd sitcoms, this comedy series is wildly inventive and clever. It follows a dry-witted woman, known only as Fleabag, who has no filter as she navigates life and love in London while trying to cope with tragedy. The show somehow manages to be gut-wrenchingly emotional but at the same time hilarious – largely due to the fantastic lead performance by writer and creator Phoebe-Waller Bridge.