A Naked Difference cause whose dream is to home all stray dogs in South Africa
Oscars Arc was inspired by a real dog named Oscar. He went on a world-wide tour visiting 42 countries to help promote and inspire dog adoption. Joanne Lefson paid tribute to her four-legged best friend by starting Oscar's Arc – his legacy still drives the passion and purpose behind the WOOF Project and their mission to home all stray dogs up for adoption.
WOOF Project – The main initiative at Oscars Arc that drives dog adoption
If you're in Cape Town or have ever visited, you might've seen a green container at popular spots around the city where you can go and see some of the pups that are up for adoption. Dogs are taken to the people, giving the dogs a better chance of finding a new home and life. All dogs part of the WOOF project are healthy and come from existing shelters.
In the next month or two, Oscars Arc is said to reach 4,000 adoptions. This promises to be a moving and emotional landmark for the organisation.
"The adoption process is both positive and efficient. Those interested in adopting a dog complete a brief application and home check – each dog is ready to go. Every dog is microchipped, vaccinated and sterilised. The WOOF Project also includes a Name Your Price Adoption Fee – and the guarantee that the adoption is a 'perfect match', for life." – Joanne Lefson, Founder of Oscars Arc
They've made scrolling past these adorable faces impawsible
As part of their marketing strategy to get dogs adopted, Oscars Arc allows the public to donate money and name a dog. Once they receive their new (often quirky) name, Oscars Arc get typing and create adorable profiles for these dogs.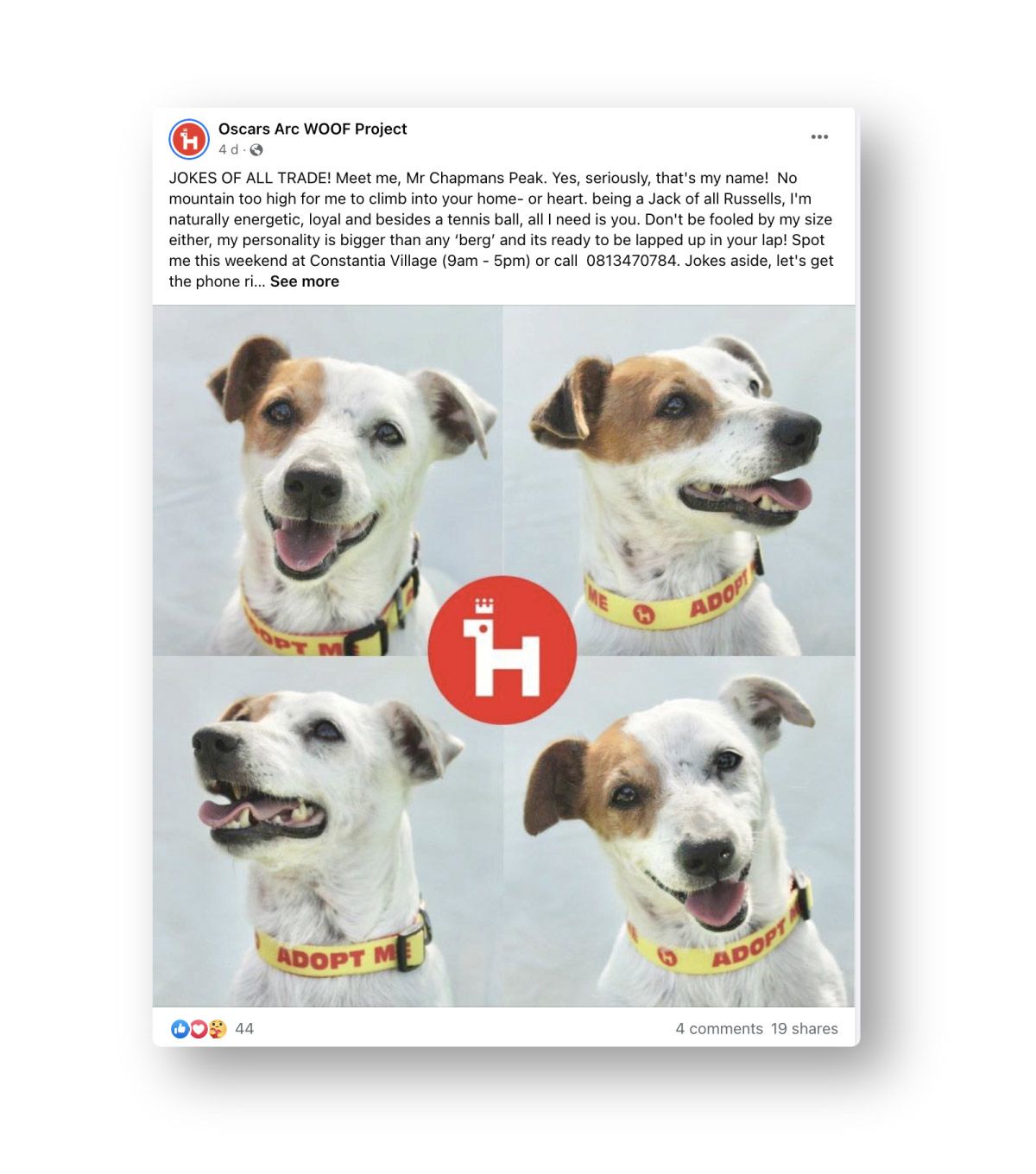 If you already have a pup, you can still support Oscars Arc by using their SUPERWOOF dog hotel and daycare
"SUPERWOOF is a dog hotel and daycare in the heart of Cape Town with an outdoor deck, splash pool and WOOF Bar. Anyone is welcome to book their (healthy) dogs in for a day stay or into the dog hotel for a few nights. All bookings support the WOOF Project," says Lefson.
How to get involved
There's of course always the option to adopt a fur friend but sometimes this isn't possible – it might be that you don't have a garden or other means to take care of one. So there are other ways in which you can lend a helping hand to Oscars Arc. You can volunteer as a home checker, a foster carer where you take care of a pup temporarily until it is homed, or you can help transport dogs that have been adopted. Oscars Arc also allows you to donate directly to their charity from as little as R100. If you choose to donate R1,000, you can name a dog that's waiting for its forever home. The name you give the dog will go up on the wall of fame and you'll be emailed a personalised eCard to send to your loved one.
What is the Naked Difference and how does it make Naked different from other insurers?
When you see or hear "Naked Difference", Corporate Social Investment might be what comes to mind. But it shouldn't. The Naked Difference isn't the icing on the cake as far as social impact goes. The way we've built Naked means that causes benefit directly from the way we do business. We're on a path to do good in an otherwise grudge-purchase industry.
We take a flat fee upfront to cover running costs and profit. The rest of the money goes towards claims, with leftover premiums at the end of the year paid to causes that our clients choose. This is different from other insurers, who take the leftover money as profit: we've removed the conflict of interest completely. This is the Naked Difference and it changes everything about insurance.
We're really passionate about telling people about the Naked Difference and who it supports, so we're featuring our causes to share what they do within South African communities.