Greenpop's focus is sustainable urban greening, forest restoration projects, and to spread environmental awareness to help restore ecosystems in Sub-Saharan Africa.
After travelling to over 16 countries, Misha Teasdale became acutely aware of how his nomadic lifestyle impacted the environment. After returning to Cape Town, and telling his friends about his worries about the environment, they pledged to plant 1,000 trees in one month in underprivileged and under-greened communities, and they've only continued to plant more since then.
Greenpop runs a series of projects to help restore and empower environmental stewards across Sub-Saharan Africa
Forest Restoration
Greenpop has been planting trees since 2010, and their work has since expanded to include over 192,000 trees planted through reforestation and urban greening projects in South Africa, Zambia, Malawi and Tanzania. They aim to plant 500,000 trees by 2025 – focusing on restoring degraded forest areas, increasing biodiversity, and expanding ecosystem services across Sub-Saharan Africa. By 2030, their hope is to have put 1-million trees in the ground.
"In 2018, we consolidated all of our reforestation work under our Forests for Life programme. Through this programme, we form long-term partnerships with small-scale organisations across Sub-Saharan Africa and provide support to plant trees, restore forest and woodland habitats, effectively manage critical catchment areas, and improve the lives of communities that rely on forest resources." – Zoë Gauld-Angelucci, Greenpop Head of Programmes
Greenpop designs their projects with a pro-community stance that recognises the local threats to reforestation success, identifies local community needs, and incorporates solutions that benefit both forests and people.
Urban Greening
Green urban spaces have a number of benefits to people and the environment around them: from regulating urban temperatures, improving air, water and soil quality, through to reducing noise pollution and providing habitats for urban wildlife.
"In spite of these numerous benefits, many urban landscapes (particularly those in under-resourced communities) lack safe and beautiful public green spaces." – Deon Louw, Greenpop Urban Greening Manager
Greenpop's Fynbos for the Future project seeks to not only plant modular fynbos gardens in schools around Cape Town but to also teach students and surrounding communities about the importance of nature and its preservation.
Food Gardening
Greenpop's Family Food Garden project aims to address food inaccessibility and financial insecurity by equipping individuals with the skills to sustainably grow their own food at home. Greenpop has partnered with Urban Harvest to deliver in-person and digital training as well as Family Garden Pods to the people who participate in the programme. The Family Garden Pod is a compact, self-contained vegetable gardening system which includes a composting worm farm and a vegetable garden. During the workshop, the beneficiaries received their Pods, and training materials, and planted their first seedlings.
Earlier this year, Greenpop joined forces with another Naked Difference cause, Christel House South Africa, to provide 20 families from Christel House with a Family Garden Pod. Funding for this project came from the Naked Difference.
How can you get involved?
With Greenpop, there are a number of ways you can show support. They allow you to do your bit either as a company, individual or even school via planting days, donations or volunteering in other ways.
Another way that you can get involved is by choosing Greenpop as your Naked Difference cause when you buy a Naked policy.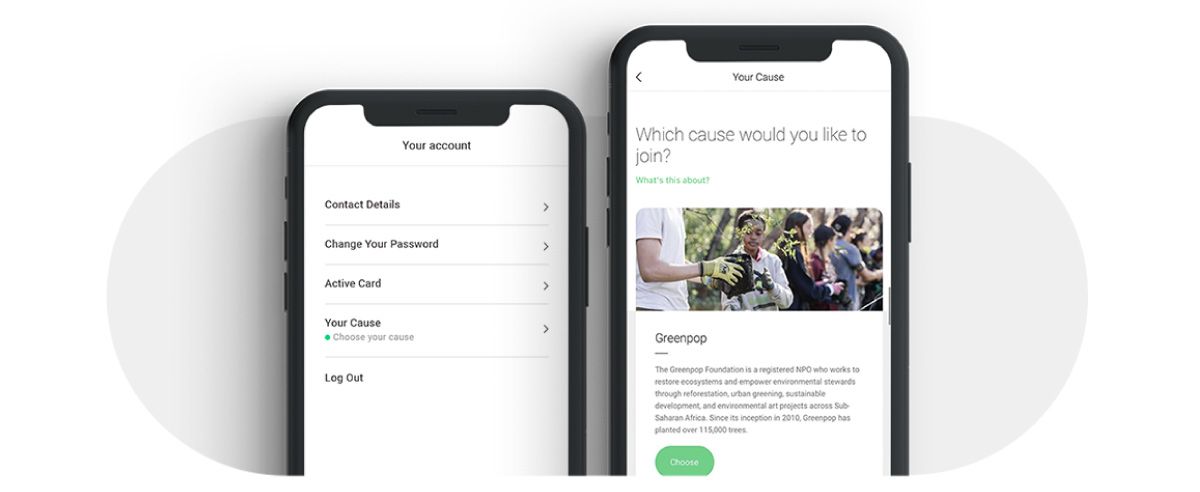 When claims are low, premiums left over at the end of the year go to causes like Greenpop, rather than to growing company profits. You can choose Greenpop as your Naked Difference cause on the app once you buy a policy.
What is the Naked Difference and how does it make Naked different from other insurers?
When you see or hear "Naked Difference", Corporate Social Investment might be what comes to mind. But it shouldn't. The Naked Difference isn't the icing on the cake as far as social impact goes. The way we've built Naked means that causes benefit directly from the way we do business. We're on a path to do good in an otherwise grudge-purchase industry.
We take a flat fee upfront to cover running costs and profit. The rest of the money goes towards claims, with leftover premiums at the end of the year paid to causes that our clients choose. This is different from other insurers, who take the leftover money as profit: we've removed the conflict of interest completely. This is the Naked Difference and it changes everything about insurance.
We're really passionate about telling people about the Naked Difference and who it supports, so we're featuring our causes to share what they do within South African communities.
Pictures: Greenpop/Juliette Bisset